Emergency Plumbing Service, 24/7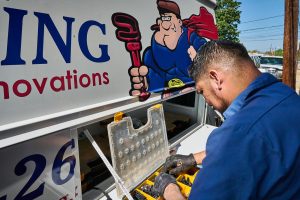 Flooding in your home and you can?t locate the source? Now, you won't have to handle it alone thanks to 24-hour emergency services from Freedle Plumbing.
Searching for emergency plumbers near me? Give us a call at
(336) 731-2681.
Sometimes the worst can happen: the kitchen sink starts leaking, or the basement floods. If you don?t know how to handle a burst pipe, or stop the flooding in your home, give us a call. In those plumbing emergencies where you don?t know what to do, we?re up for the task. One of our promises to our customers is highly responsive 24-hour emergency plumbing services. Now you don?t have to handle a crisis alone. One of our plumbing technicians can walk you through shutting off a water valve or handling a leak, step by step over the phone, or come out and handle the situation themselves.
We aim to arrive on-site within an hour of your call outside of our normal business hours. Once we?ve handled the situation, our technician will diagnose the ongoing problem, provide accurate pricing, and give you a list of the repairs you need to get things up and running again. We?re the emergency plumbers you can count on, no matter what.
Our Emergency Services Include:
Assisting you, or helping shut off the main water supply

Assessing the plumbing issues and water damage to your home

Locating large or small leaks, and assessing the water valve

Addressing the problem and giving you a recommended service
Day or night, it doesn?t matter. Freedle Plumbing is here to help you through flooding, burst pipes, and any other plumbing emergency you might encounter.