Pipe Replacement Services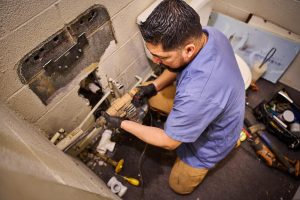 We can repair existing water pipe damage, or install new piping, to get your home up and running again.
Pipe Damage isn?t a problem with Freedle Plumbing
Are your aging drain pipes showing signs of damage? Have you had problems with your water supply line? Your pipes are a critical part of operating your home, and the last thing you should be worrying about are pipe bursts, or complications with your water supply. Freedle Plumbing can repair or replace your pipes based on the specific needs of your home, and improve the quality of existing water lines.?
Replacing and repairing your sewer and water lines is important, but it doesn?t have to take a toll on your yard. We can bore your waterline underground, so your yard stays untouched, and work around existing obstacles like driveways and sidewalks. This is a great way to ensure your home stays looking the way you want it, without compromising your water line. We can also install more traditionally trenched in water lines for your home, that are covered and re-seeded back. Burst pipes, damaged water lines, or repairs to your water or sewer lines don?t have to be a hassle anymore.
If you have questions about drain pipe installation or repairing your water pipes, don?t hesitate to give us a call, or learn more about all of our plumbing services. We?re happy to help.