Water Heater Repairs and Replacement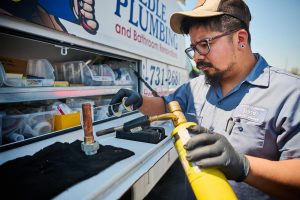 Freedle Plumbing Handles Hot Water Heater Leaks and Repairs
Did the hot water heater burst again? Or maybe you?ve been dealing with some pesky leaks, and you can?t locate the source of the problem? At Freedle Plumbing, we specialize in hot water heater installation and service throughout North Davidson and Forsyth County. If your water tank is leaking, or the hot water isn?t lasting as long as it should, our expert technicians will find the solution you need to get things up and running again. We can repair or replace your electric, tankless, and gas water heaters.?
Rather than wonder how to install a water heater on your own, or find the source of those troublesome leaks, let us do the work for you. Plus, if your tank is causing serious water damage in your house, our plumbing technicians always keep extra water heaters and supply parts in stock so they can replace your broken hot water heater if necessary. Instead of running out of hot water or dealing with the troublesome complications of a broken water tank, call Freedle Plumbing today. We?ll get the work done so things can get back to normal in no time.
Our Water Heater Repairs Include:
Replacing hot water heater tanks and parts

Fixing tankless, gas, and electric water heaters

Solving water leaks within your home

Fixing drain valves and more
If you?re searching for affordable water heater installation near me, Freedle Plumbing has you covered. We?re currently offering discounts on our installation services so you can save and still get the quality service you?ve been looking for.